And The Winners Are.........
1st Place Team : Ryan McCarthy, Brian Roberge, Scott Norris & Ray Blood
2nd Place Team: Scott Cannon, Joe Clough,
David Ferguson, & Justin Brownell
3rd Place Team: Scott Blake, Eric Turner, Keith Cheverie
& Craig Dagan
Closest To The Pin Winners:
Hole #8 Jeff Gilpatrick
Hole #3 Charles Gray
Hole #11 Rose Robichaud
Hole #14 Seth Pierce
Ladies Longest Drive: Rose Robicheau
Men's Longest Drive
Dustin LeClair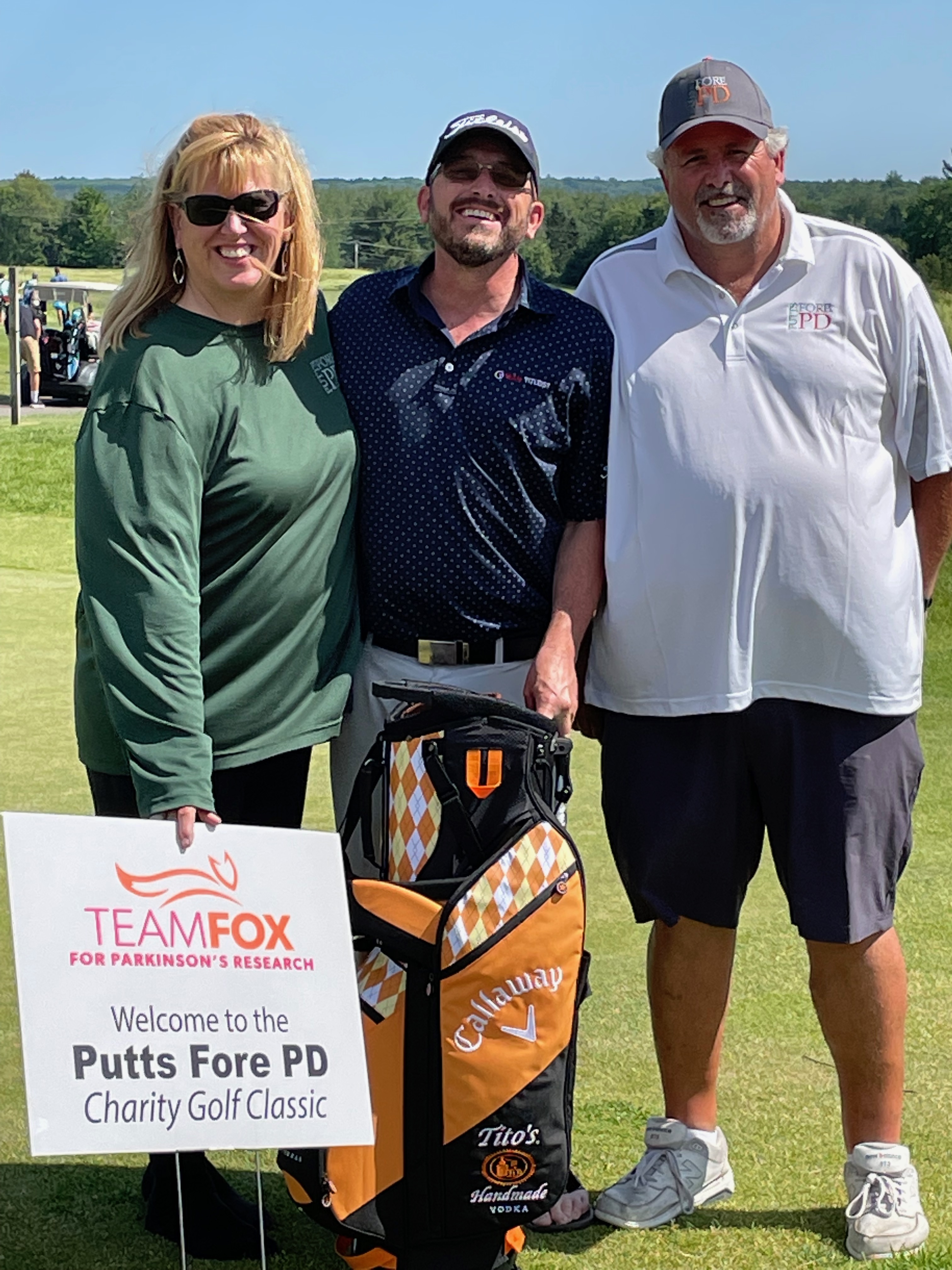 Tito's Putting Green Contest Winner
Ed Leskowsky
Mike Howard "Thank you Mike for your generous dontion back to TEAM FOX/PuttsForePD"
$ 12, 500
Wow $12,500 will be sent to Team Fox for Parkinson's Disease Research! This is the largest donation we have sent thus far.
It was not even two weeks before the tournament date when we found out the golf course was finally fully open from the Covid-19 restrictions & the State of Maine. This meant Tito's could join us with their Putting Green contest. It also meant now we had to find volunteers who could set up a raffle table, get signs out on the course, and have volunteers running fundraising incentives on the course on Sunday. Challenge Accepted!
We are truly blessed to have amazing families and friends that come out and support us. You all stepped up and we thank you from the bottom of our hearts!
To our golfers, if you didn't show up, there would be no tournament! So many of you return each year and this year we had a few new faces. We had a blast with all of you. Thanks for being so supportive. We hope to see you all next year!!
To ALL of our Sponsors and Donors we are so GRATEFUL!
*To Kirk, from M.S Walker, we enjoyed working with you and want to say a BIG Thank You to the team at Tito's Homemade Vodka!!!
*To Seacoast Printing owner and Putts Fore PD team member Jeff, we thank you and your family for making us, the volunteers and especially our golfers all look good in the PFPD apparel. Parmley ladies , you keep us going & laughing @ the Putting Green contest each year!
To the Flynn family, Jeff, Digger, Ann Marie, and the entire team at the Links at Outlook and Outlook Tavern we thank you for your hospitality, love, and support again this year!
Hope to see you all again next year!
Ralph, Shelly, & Gary
Team PUTTS FORE PD